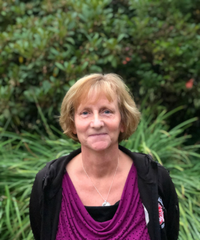 What I do: At present I am in transition mode, as I have stepped down from working as an elementary school teacher and looking to what God has next for me and my family.
Family: We have 2 daughters, ages 18 and 20 who are in their own time of transitioning into adulthood and trying to figure out what that will look like. We also have 3 grown grandchildren ages 28, 25 and 23 and a sweet great-granddaughter age 4.
Education: Bachelor of Education from SFU
How long have I been at RRCC: My husband was baptized at RRCC (then East Aldergrove Church) in 1978 and I became involved with this body of believers in 1997 when we married.
Hope and vision for RRCC: My hope and vision for RRCC is the same - to see Jesus draw His creation to Himself - to love, to wholeness, to Life.
A few of my favourite things:
I enjoy spending time with this unique family that God has blessed me with and time with church family members. We are part of a Care group at RRCC that has been a huge blessing to us these past 2 years. I also enjoy being outdoors either gardening or admiring God's creation.
One thing most people don't know about me: God blessed me with a deep interest in mission work and that took me to live in various cultural groups for various amounts of time. There is so much to be learned from our worldwide church and glean a broader view of God at work to draw His creation to Himself.
Hometown: I am born and raised in Abbotsford but spent some years living in different countries on different mission assignments.