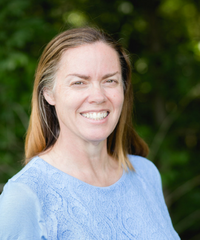 My role at Ross Road: I am the Children's Ministry Pastor here at Ross Road.
My family: My husband Donovan and I have three adult children, a daughter-in-law, and 4 precious grandchildren.
How long have I been at Ross Road?: I'm the newest staff member! I moved to Abbotsford from Kansas (USA) in August 2018.
One thing most people don't know about me: I am ambidextrous, but favour using my right hand. You'll most likely find my computer mouse on the left side, though.
A few of my favorite things: A few years ago I took up running and have done several 5K and 10K races. I enjoy reading and learning. My favourite type of television shows are home improvement (currently fascinated by tiny houses) and reality TV (especially Survivor).