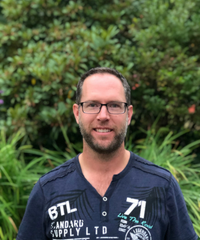 What I do: I am a small business owner and mechanic, myself and 2 partners run Fraser valley Radiators in Langley where I have worked for the past 17 years.
Family: I have been married to Melissa for almost 10 years and between us we have 4 beautiful children, Kelsey is 8, Hannah is 6, Chloe is 3 and Reece is 1.
How long have I been at RRCC: Melissa and I began attending Ross Road about ten years ago, shortly before we got married.
Hope and vision for RRCC: my hope for RRCC is that we can be a church with a vibrant, inviting community that together seeks to live out our mission of helping people find and follow Jesus. That we be a church that boldly shines the light and truth of Jesus Christ for our community to witness.
A few of my favourite things:
I have always greatly enjoyed the outdoors and I love to spend my spare time fishing and hunting. Camping with our young family is always one of the highlights of my year.