Ross Road Kids Soccer Camp
Ross Road Kids Soccer Camp
July 24 - 28, 2017

Important: This event has already occurred.

9:00AM - 12:00PM
Ross Road Community Church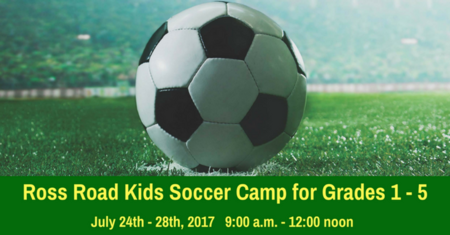 Hey Kids! Soccer Camp is almost here and we're planning an awesome time for you. Come join us for a week of learning new soccer skills, fun activities, new friends, and an epic water fight! Get ready for a TON OF FUN!
Parents - sports can play an integral part of your child's life, build foundational sports and life skills and serve as a basis for lasting friendships. What better way to introduce your child to the benefits of sports than summer soccer camp! It doesn't matter if your child has played soccer before, or just started yesterday, our soccer camp will help him or her improve their basic skills as drills and games are geared to help them focus on the fundamentals. In between on-field sessions, coaches lead in songs, tell stories, and share object lessons that help character-building themes take hold in kids hearts. And most importantly, kids will discover God's great love for them!
You can register your child for soccer camp either in person at the church office using the soccer camp registration form available below, or online thru Eventbrite via the link below. The cost is only $45, which includes a t-shirt, water bottle, snack, and instruction! If you are registering more than one child in your family it's $45 for the first child, and $40 for each additional child. Please note the if your register in person payment must be made via cash or cheque, and if you register via Eventbrite payment will be with a credit card.
Online Registration:
https://www.eventbrite.ca/e/ross-road-community-church-kids-soccer-camp-tickets-35704861201
Available Files to Download
To download, right-click the file and select "Save link as".
Ministry Kids
Return to Events
---